Sunday Dinner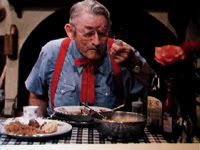 Dat Food Network is de'pouille. Whens I watch dat, j'ai gros couer. I gon' get da voodoo lady t' put a gris-gris on dat Sandra Lee, for true!

So, do you think the Food Network has descended into suckitude?
If you do, you have company.
Via the
News Blog
, check out
Anthony Bourdain's remarks
about Food TV. That's some funny, funny shit, especially his dream Iron Chef America matchups.
|